Towards ensuring woman's safety and security at the workplace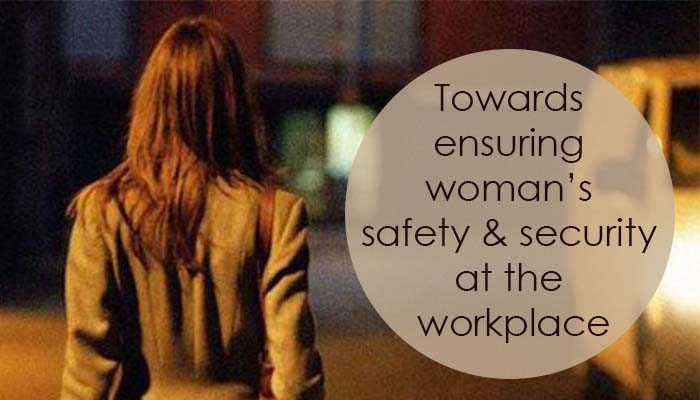 1. The Sexual Harassment of Women at Workplace (Prevention, Prohibition and Redressal) Act, 2013 Act is enacted with a view to ensure that women are protected against any form of sexual harassment conduct at all the work places, be it in public or private. This will contribute to realisation of their right to gender equality, life and liberty and equality in working conditions everywhere. The sense of security at the workplace will improve women's participation in work, resulting in their economic empowerment and inclusive growth. Towards achieving the objects of this Act the employer is vested with the following obligations:
Preparation and implementation of an Internal Policy for Prohibition of Sexual Harassment.
Constitution of an Internal Complaints Committees for each administrative unit or office that employs at least 10 employees.
Display notice/s informing employees about the Internal Complaints Committee and penal consequences of indulging in sexual harassment acts.
Conduct periodic workshops and awareness programs for your employees
Extend necessary facilities to the Internal Complaints Committee to deal with the complaint/conduct inquiry.
Extend necessary assistance to a woman employee in instances of sexual harassment
Specify acts of sexual harassment as a form of misconduct under the service rules of your organization.
2. The Delhi Police from time to time issues orders to organizations like BPOs, Corporate and Media Houses, having the system of picking up and dropping their employees to ensure the following:
The BPO should take the list of those drivers from the transporters who have been working with them for more than one year and only these drivers should be sent with the cabs that carry women employees.
The women employees may be advised to drop at their homes, especially between sunset and sunrise.
Women should be employed only in batches, of not less than ten or not less than two thirds of the total nightshifts strength; separate work sheds, canteen facilities, all women transport facility should be provided.
The above measures should be adopted by every employer who wants to employ women in their factory in nightshifts.
Security guard must accompany the woman employee to her houses if residence is not motorable. (If the cab cannot reach to her residence).
They should ensure that cabs do not have black film/tinted glass.
GPS should be fitted in all vehicles to keep track over movements of cabs.
They should ensure that the driver and guards have proper ID cards.
Transporters should pick up the women employees from their house door steps and should wait till she confirms that she is safely inside her house through a phone call.
They should keep a dedicated command centre/Control room that should have an emergency number manned 24 hours, so that employees can call, in case of any untoward incident.
3. Several States have amended their existing Shops and Establishments Act to give more flexibility to working hours and has permitted woman to work in night shifts as well subject to the employer providing for the necessary transportation arrangements. The Karnataka Government for example has amended the Karnataka Shops and Establishments Act, 1961, where  IT/IT-es establishments have been allowed  to employ women to work in night shifts subject to fulfilling the following conditions:
Transport facilities from the residence to workplace and back must be provided free of cost and with adequate security.
Employment of women employees must be on rotation basis.
Adequate number of security guards must be posted during night shift.
Sufficient rest rooms, latrines and washing facilities with adequate water supply must be provided separately for women employees to secure privacy.
The employer must obtain bio-data of each driver conduct a pre-employment screening of all drivers employed on their own. With regard to the drivers employed though sourcing, the employer must be satisfied that the screening has been carried out by the service provider.
The schedule of route of the pickup and drop must be decided by the supervisory office of the company only.
Women must be provided escorts from drops starting at 6:45 pm to pickups till 6 am.
The employer must have a control room/travel desk for monitoring the vehicle movements.
Read Other Sections :
Legal Rights of Women @ WorkPlace
Disclaimer
All material included in this blog is for informational purposes only and does not purport to be or constitute legal or other advice. The Blog should not be used as a substitute for specific legal advice. Professional legal advice should be obtained before taking or refraining from an action as a result of the contents of this blog. We exclude any liability (including without limitation that for negligence or for any damages of any kind) for the content of this blog. The views and opinions expressed in this blog are those of the author/(s) alone and do not necessarily reflect the official position of Lexplosion. We make no representations, warranties or undertakings about any of the information, content or materials provided in this blog (including, without limitation, any as to quality, accuracy, completeness or reliability). All the contents of this blog, including the design, text, graphics, their selection and arrangement, are Copyright 2018, Lexplosion Solutions Private Limited or its licensors.
ALL RIGHTS RESERVED, and all moral rights are asserted and reserved.
0 Comments