How will the GST affect startups when rolled out ?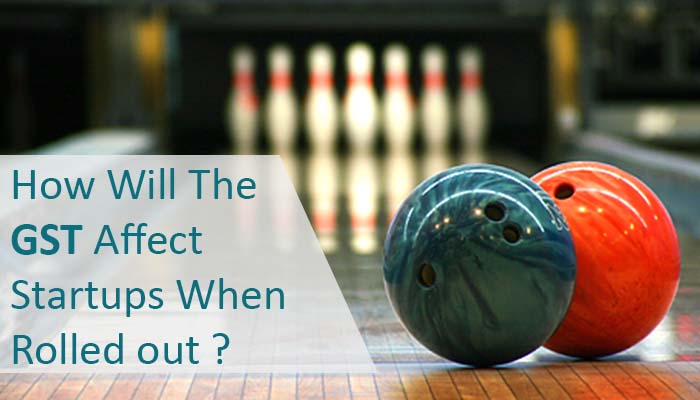 After extensive debates and much hullabaloo, the Goods and Services Tax bill has finally been passed in the Rajya Sabha and the country is looking to usher in this revolutionary move in the way indirect taxes are calculated. Touted as the "Biggest Tax Reform in Post Colonial India", the Goods and Services Tax shall subsume a number of state and central taxes, making tax filing easier for companies on the whole, including start-ups.
The Indian start-up ecosystem is quite a robust one, with the third-largest number of start-ups in the world. It has been estimated that by 2020, there will be as many as 10,000 start-ups in the country. As a matter of fact, the central government has launched the Start-Up India scheme to boost the number of start-ups in the country. Within the ambit of this scheme, start-ups have been exempted from paying income tax for the first three years since inception and self-certification based compliance. The GST Bill is poised to be yet another shot in the arm for start-ups.
At present, start-ups have to dedicate a considerable amount of time and resources for dealing with different taxes. For instance, new businesses mandatorily have to get a VAT registration done from the sales tax department. Therefore, businesses operating in different states have to face a lot of hassles with regard to fees and procedures. The GST shall bring about much uniformity in the process while the centralized registration will make starting businesses and branching out in other states easier. Moreover, the present structure accords for businesses to obtain VAT registration for a turnover of more than Rs 5 lakh. The GST will do away with this norm, as threshold will be increased to Rs 20 lakh for other states and ten lakh for north-eastern states. This shall bring much relief to start-ups and small businesses.
The GST is also expected to increase ease of doing business in India as it streamlines of a number of indirect taxes like Octroi, Central Excise and VAT to make tax filing easier for firm. With a shot at siphoning better flow of credit from global investors, businesses would feel the heat to restructure their operations and rework production cost for staying competitive. Start-ups would be at an advantage compared to established firms, as they can rework their business models faster according to the changing business climate.
Apart from making the tax structure simplified, the GST shall also give the much needed push to entrepreneurs to venture into the industrial and manufacturing sector. According to present norms, dealers of manufacturing goods need to obtain Excise Registration, in order to sell goods CST/VAT registration is mandatory. Another set of registrations are needed if a particular firm is engaged in providing or receiving services taxable under Reverse charge mechanism. With the implementation of GST, all these roundabout processes shall be eliminated.
Despite the seeming benefits offered by GST, there is much cause for start-up entrepreneurs to be perplexed. For instance, start-ups based in the manufacturing sector with a lesser turnover shall have to take on the burden of additional compliance. As per the current excise laws, manufacturers with turnovers less than Rs 1.5 cr are exempted from paying any kind of duties. However, with the implementation of the GST, this threshold shall be brought down to Rs 20 lakh or 10 lakh as the case may be, making it mandatory for a lot of start-ups to get their GST registration.
E-commerce start-ups have much cause to be worried to, given the guidelines proposed for GST vis-à-vis TCS. If they are passed, then numerous e-commerce firms shall have to monthly returns and collect taxes from the sales made on the platform. Quite obviously, this shall increase administration cost and documentation, whose brunt shall eventually be borne by customers as prices of products would be jacked.
Lastly, the GST council is yet to come to a consensus regarding the rates of GST. The Council has proposed rates such as 5%, 12%, 18% and 28% along with cess in some cases, with the lower rates falling on essential items and higher tariff for sin and luxury goods. Essential services such as education services, health and other essential service are exempted from GST while the rate of 28% shall be imposed on some specific items like Luxury cars etc. Till the time these nitty-gritties are worked out, the true effect of GST is hard to assess on various sectors.
All in all, the GST shall simplify the labyrinth tax structure, unifying most taxes so that the process of manufacturing and distribution shall be easier and quicker. However, start-ups may have to deal with additional compliances and documentation depending on the sector they belong to.
For more details on GST Visit us at : GST Training & Consultation
0 Comments