How are compliance management systems making regulatory compliance easier to track for MSMEs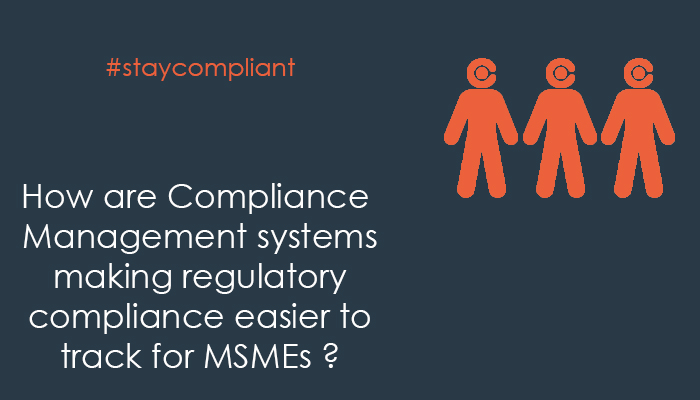 MSMEs form a significant part of India's industrial sector, given that they contribute 38% to the country's GDP. Collectively, they produce more than 6000 products which range from traditional to sophisticated tech items. The government has been trying to boost this sector with its various policies such as Make in India and the recent tax sops offered to them in Budget 2017. In particular, the Make in India program has made it mandatory for foreign companies to source 30% of their materials from local firms, in order to put them on the global manufacturing map.
In order to break into the global supply chain, it is important for MSMEs to have their compliances covered. Conglomerates are more inclined to do business with firms that fulfil their compliance requirements as it would reduce their liability in case of slip ups. Moreover, compliant firms are more likely to attract funds from venture capitalists and can follow a fast-tracked path to growth. Despite the benefits that being compliant has to offer, that only around 65% of companies in India are fully compliant with all norms.
The main roadblock to compliance in India is its complex three tiered structure. Irrespective of where a unit is based, it would have to comply with local, state and central laws which can be quite overwhelming to deal with. The maze-like structure of compliance requires a lot of time, manpower and money be spent on it, something that most MSMEs lack. The costs involved deter MSMEs from bothering with regulatory compliance too much, which leads to payment of huge sums in bribes and penalties upon surprise inspections.
Compliance management systems are simple solution to mitigate a lot of compliance related issues faced by MSMEs. They take care of not only the critical compliances but also provide alerts on due dates. They can be implemented throughout the organization and changes to any law or rules shall be reflected in them, helping MSMEs keep abreast of their compliance requirements. Komplify has been tailor made for MSMEs, keeping in mind their needs.
It is a simple, cloud based tool that aids MSMEs in India keep track of their critical and other legal compliances. It provides calendar alerts on compliances due and any changes in compliances that are applicable to a subscriber are reflected almost instantaneously. Komplify provides slice and dice reports as well as customized reports which provide a subscriber with detailed information on the compliances completed and the ones which are pending. The Komplify repository includes all compliances that are applicable across Indian states and UTs both central and state level laws, which are regularly updated It is also immensely helpful for entities with multiple units spread across the length and breadth of the country, as the software can integrate all compliances required based on their geographical location.
Compliance management systems are a good solution for MSMEs to track their regulatory compliances as they are quite inexpensive and dispense with the need to spend much time and man power on them. They are much popular globally and Indian MSMEs are rapidly warming up to them.
Disclaimer
All material included in this blog is for informational purposes only and does not purport to be or constitute legal or other advice. The Blog should not be used as a substitute for specific legal advice. Professional legal advice should be obtained before taking or refraining from an action as a result of the contents of this blog. We exclude any liability (including without limitation that for negligence or for any damages of any kind) for the content of this blog. The views and opinions expressed in this blog are those of the author/(s) alone and do not necessarily reflect the official position of Lexplosion. We make no representations, warranties or undertakings about any of the information, content or materials provided in this blog (including, without limitation, any as to quality, accuracy, completeness or reliability). All the contents of this blog, including the design, text, graphics, their selection and arrangement, are Copyright 2018, Lexplosion Solutions Private Limited or its licensors.
ALL RIGHTS RESERVED, and all moral rights are asserted and reserved.
1 Comment