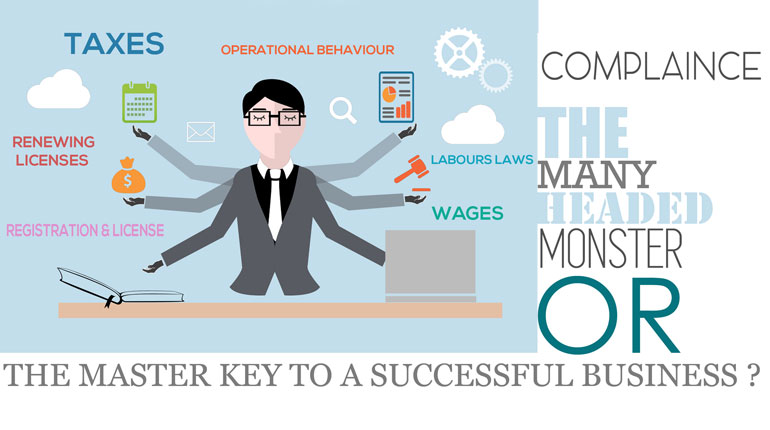 Compliance- The Many Headed Monster or The Master Key to a Successful Business?
The effort needed to run an organization successfully is no secret. Taking care of production cycles, employee demands, customer feedback and other overheads takes up so much time, that focusing on other equally important aspects like compliance becomes difficult for entrepreneurs. To add to an ever-growing burden is the fact that compliance becomes progressively complex as the scale of operations increases.
Legal compliance is anything but binary. It is a balancing act involving aspects like paying proper taxes in a timely manner, ensuring that minimum wages and safe work conditions are provided to employees, operating in an environment friendly manner, obtaining appropriate registrations and licenses; renewing them in a timely manner; and, many others.
Moreover, the Indian compliance scenario is perpetually changing with amendments to laws being announced almost every other day. For instance, the Income Tax Act underwent 88 modifications during the Financial Year 2015-16. The Service Tax Act saw another 40 changes in that same time frame. And the Companies Act of 2013 saw as many as 21 amendments with 35 critical changes. Thus among these three legislations alone, there were over 150 changes in one financial year. And these are just three of 1500+ enactments that India Inc needs to comply with. What complicates things is that because of the governance structure of India, businesses are simultaneously governed by:
Central laws: Income Tax; Service Tax; Companies Act; and, Employees Provident Fund Act for example;
Laws of the states and municipalities in which they operate: Shops and Establishment Act; Fire Safety Act; Lifts Act; Municipal Acts of various places such as: Delhi Municipal Corporation Act; Chennai City Municipal Corporation Act; Mumbai Municipal Corporation; Kolkata Municipal Corporation Act and many more. Of course, the most intimidating set of laws are
Central laws read with state rules: These are mostly laws relating labour and employment and environment; health and safety. For example, the Factories Act; the Contract Labour (Regulation and Abolition) Act; the Minimum Wages Act and the Air Protection Act are all central laws. However, the procedural aspects of what forms to fill up; what fees to pay; the frequency of filings and renewals are determined by individual state rules. Thus, if you have a factory in Karnataka and another one in Tamil Nadu, you will have to separately identify your compliances under the Factories Act, which often see significant variance.
Taking this complex regulatory regime into account, the difficulties faced by small businesses in staying compliant are quite understandable. Monitoring compliance is not a one-person job and large firms have dedicated compliance departments headed by compliance officers that check-up on guidelines, cases, issues and new developments. Regular training needs to be imparted to employees to keep them abreast of the changes affecting the legal scenario. Furthermore, when employees switch organizations, the new recruits need to be apprised of the existing structure. Apart from
maintaining a compliance team, global players also enlist the services of legal and compliance management organisations such as Lexplosion to handle any curve balls thrown their way. Affording to build such a detailed compliance system is oftentimes difficult for small and medium enterprises (SMEs), whose initial focus is on acquiring customers and increasing productivity.
The need of the hour is a solution tailored to fit the needs of SMEs– low cost, simplified and easy to manage. At Lexplosion, we have attempted to do just that with Komplify. For the first time in the world, we have built an algorithm to predict what laws and compliances will apply to you with just basic details that you provide us with. So what would earlier have taken you hundreds of hours and required you to pay exorbitant sums to lawyers and chartered accounts on a monthly basis, will now be yours
for a small fee in just 15-20 minutes. And, we will keep you updated of on all major changes in any of these compliances; help you with audits; answer your legal and technical queries; and even do online training and updates sessions on an ongoing basis.
Komplify is available at www.komplify.com. If you are a large enterprise, you should consider subscribing to Komrisk – India's leading compliance solution for large enterprises. To know more about Komrisk, please write to us at info@komrisk.com.
Disclaimer
All material included in this blog is for informational purposes only and does not purport to be or constitute legal or other advice. The Blog should not be used as a substitute for specific legal advice. Professional legal advice should be obtained before taking or refraining from an action as a result of the contents of this blog. We exclude any liability (including without limitation that for negligence or for any damages of any kind) for the content of this blog. The views and opinions expressed in this blog are those of the author/(s) alone and do not necessarily reflect the official position of Lexplosion. We make no representations, warranties or undertakings about any of the information, content or materials provided in this blog (including, without limitation, any as to quality, accuracy, completeness or reliability). All the contents of this blog, including the design, text, graphics, their selection and arrangement, are Copyright 2018, Lexplosion Solutions Private Limited or its licensors.
ALL RIGHTS RESERVED, and all moral rights are asserted and reserved.
0 Comments